26 April, 2022
Sales and purchasing team – a dynamic duo in a dynamic company
KG List has had a satellite sales and purchasing team at our southern neighbours Denmark for the past two years. Yet, the father-son duo Bogdan and Slavisa Stojkovic has a combined long history in the wood business.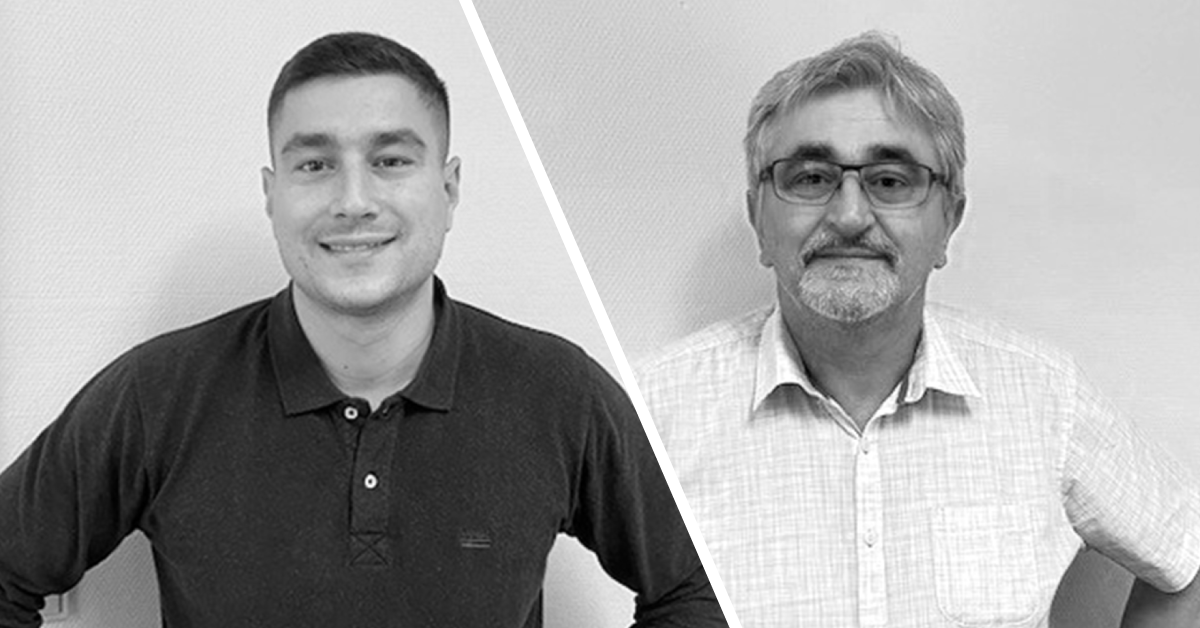 Bogdan started in the wood industry as long as 25 years ago when he began importing timber from the Balkan countries. Having worked both as an agent and self-employed, he has built up an impressive experience in this line of work. Even Slavi's interest was established early by following along on his father's business trips. The red thread for him has been sales with a side of marketing and logistics in a range of fields. When the time was right, they were invited to be part of KG List's sales and purchasing team.
"The way Johan is building up the company and the work philosophy is very interesting. We jumped on the idea and then started slowly, of course. But we have been going deeper and deeper into the market and within KG List. First, you must know KG List. Because if you want to buy for a company then you have to know the company," the beginning of the collaboration is described.
Shortly said, the main task of the sales and purchasing team is to buy and sell wood and wooden products, where Bogdan is mainly responsible for purchasing materials, and Slavi has taken on the sales of KG Lists products. Beginning their work with KG List right at the start of the pandemic has of course affected their activities. However, when many halted their projects, the duo stuck to their bold approach and after the first six months, things started happening fast.
"During the pandemic, many stopped buying. And we didn't stop buying. We bought. Because we are keeping them alive. And without them, we don't exist. And they do not exist without us – so it's a chain, a circle of people. If you have the material, you can also gain new customers because you have something to sell," Slavi describes their forward approach.
Wood processing is not done overnight. Sometimes the journey from a forest to a ready-made product stretches over several years, which makes the wood business a business of established relations and long agreements. Even though they thoroughly know KG List's market, both are actively looking for new customers and contacts. Sometimes nothing is sold to new customers over six months to a year. But the importance lies rather in building a good relationship with the people. Because when the time comes for the market to turn, the customers turn to the company they have a positive connection with.
"The wood business is a very small world. Everybody knows each other. Even across all of Europe and also the world. So, people know each other, and it's the same players. So, what can I say – if you want to have a long life in this business, you must play fair," Bogdan describes the wood industry.
Bogdan has always been careful about the sources of raw material. Having a personal connection to the suppliers creates a specific caution and awareness towards corruption and the work environment of the labour force. Meeting the companies he buys from, enables him to also see the conditions of the staff. No business is done if it's apparent that the workers are breaking their backs and have no safety equipment. One does not feel good about buying wood from places like that, Slavi adds.
The sales and purchasing team demonstrated their ability to handle complicated situations during the pandemic. However, they are again faced with navigating difficult times due to the horrific events in Europe. It results in a chaotic market and unstable prices while also having to compete with big players like China. The low supply is also pushing many to investigate other materials like plastics and vinyl, with the wood supply reaching another low, they claim.
Do you see any positive development possibilities in these difficult times right now?
"Yes, of course we do! The market has become more local in recent years. And this gives KG List a positive position on the market in Scandinavia. Because we have our own sawmill and our own production, we are not forced to go elsewhere. The customers here in Scandinavia are seeking to have a local supplier. So, what we do right now is that we buy. Even though the prices are high, we buy, because we have to buy. We have to keep on moving. We cannot stop just because of the prices," Slavi explains.
For a long time, wood and wooden products have been very cheap, compared to the time it takes for the material to form on top of the effort and care put into production. Now we come to a situation where we have to start valuing wood more, states Bogdan. They both look forward to witnessing the change in consumption patterns and expect to see more appreciation for longevity and valuing of quality products.
What do you do when you're not working?
"I am spending a lot of time with my family. I have a little kid, a little boy – two months old. So, my focus right now is very much on him and on my wife. Otherwise, I spend time with some friends or go to the gym. My wife and I like to go to nature as well. We take trips to the sea or to the woods. And we have a husky dog. Going out in nature with the dog as well – this is what I do," says Slavi.
Of course, Bogdan is at present very much enjoying spending time with his two-month-old grandson as well. He also has a hidden talent of being a grill maestro and enjoys preparing grilled food for the family at his newly renovated house.
To sum up, the duo is very glad to be part of the KG List team. They describe that the best thing is having the balance between freedom in one's work together with having responsibilities.
"There is space to think, there is space to come up with new ideas – there is room for these kinds of things. There is room to be creative. And there is room for growth. So, I think this is a dynamic company. And I think it's a pleasure to be a part of that," concludes Slavi.