28 January, 2022
Exhibition about local production – The Future is Local
Welcome to the exhibition 'The Future is Local', curated by the companies VERK and A NEW SWEDEN, in close collaboration with Stockholms Auktionsverk. The exhibition, which will take place during Stockholm Design Week 7–12 February, is about local production from raw materials to finished products. KG List is proud to be among the companies participating in the exhibition.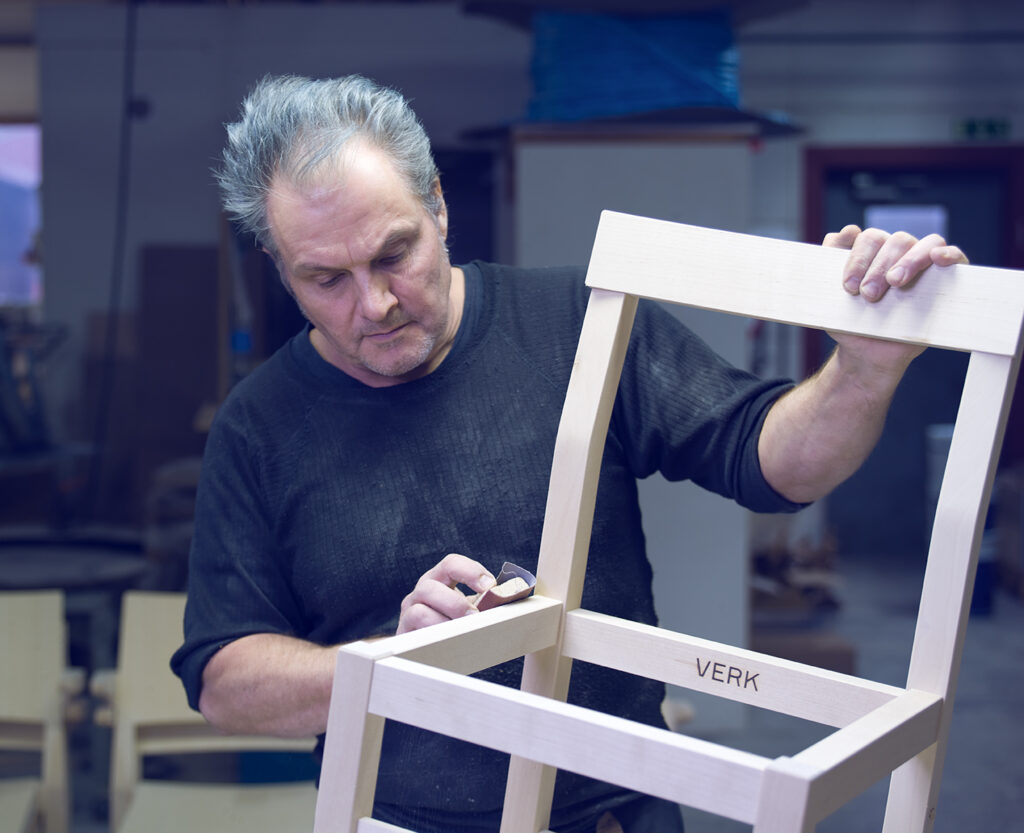 The Future is Local is about is about local production and takes an inspiring and transparent look at the process of VERK's and A NEW SWEDEN's completely sustainable products.
"We want to share our knowledge about manufacturing 100% Swedish-produced products and to show that sustainable production is actually possible. Total transparency benefits everyone," says Simon Anund, founder of VERK.
Both VERK and A NEW SWEDEN only use Swedish materials, which are transformed into products of the highest quality through local production.
"We want to show the benefits of local production. Not only does it provide increased transparency and traceability, but it substantially reduces the carbon footprint, too. The supply chain of our garments is less than a fifth of the length of the typical supply process," says Lisa Bergstrand, founder of A NEW SWEDEN.
The exhibition highlights the players involved, the producers of the raw materials: wool, leather, glass, wood, and steel, as well as the craftspeople and manufacturers of the actual products. Seminars with different themes based on local production will also be held over the course of three evenings.
"This is an excellent way to visualise and educate more people about what a Swedish production society can look like today. We must take care of the few Swedish players we actually have in the processing industry and safeguard their existence," says Simon Anund, who underscores the demand for locally produced products.
With The Future is Local, VERK and A NEW SWEDEN aim to both educate and inspire, at the same time as they hope to make the concept of "Made in Sweden" stand for something really good again.
The exhibition is held at Stockholms Auktionsverk, Nybrogatan 32, 7–12 February. The seminars will be held 9-11 February at 5 pm and will be moderated by Jonas Olsson, CEO of SVID, The Swedish Industrial Design Foundation.
Wednesday 9 February. Theme: Local production – competitive local production is created through increased demand. We take a deeper look at the subject.
Thursday 10 February. Theme: Local materials – there is a real need to develop the processing process in favour of local materials. How do we go about it?
Friday 11 February. Theme: The future – new consumption patterns demand adapted production strategies. How do they take shape and how do they become competitive?
The panellists are carefully selected specialists in each field
For more information – please contact:
VERK – Lina Rocca, lina@verk.se, +46 70 332 33 52
A NEW SWEDEN – Lisa Bergstrand, lisa@anewsweden.com, +46 70 495 44 09
---
Companies participating in the exhibition:
Skyllberg Industri AB
Lasertech YAG
SSAB
Bröderna Wigells Stolfabrik
Svenssson & Linnér
Stolfabriken i Tibro
Tärnsjö Garveri
Kallfeldts Läder AB
Swedish Wool Mattress Company
Ullkontoret Artex
Hobbymekanik
KG-List / Österbymo Hardwood
Svenskt Trä
Målerås Glasbruk
Filtmakeriet
Stockholms Glasbruk
Väveriet i Bollnäs
Hälsinge såpa
Bio Gen Active
Fårägare som sålt ull Sjuhäradbygdens Färgeri
Ljungskile Trikå
Malmö Industries
Hälsinge Linneväveri
Bamatex
Sontex
Biella the Wool Company
Pewter of Sweden Vägen ut! Kajskjul 46