14 April, 2023
Rustic oak three-layer panels
KG List has produced material samples of rustic oak three-layer panels to present the potential with the material's different qualities.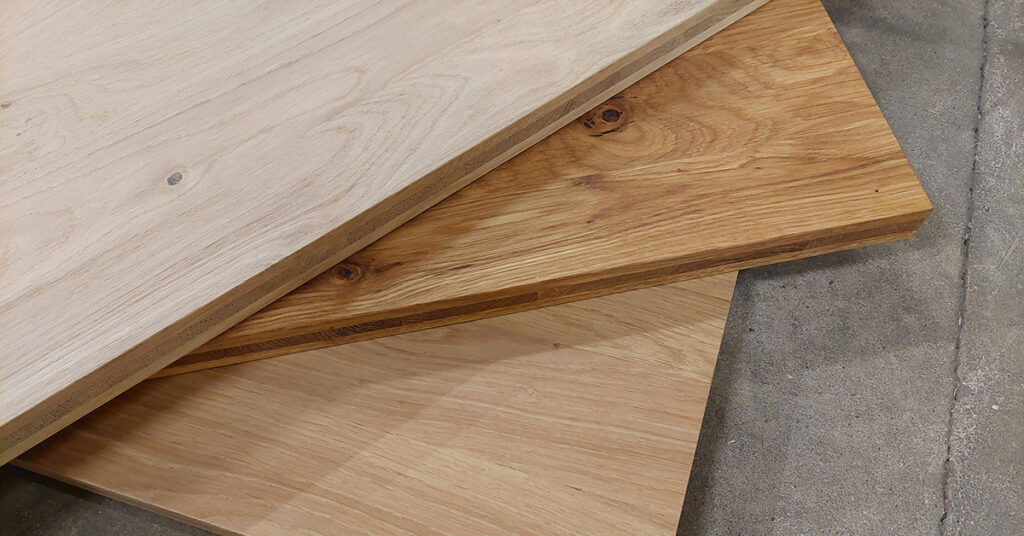 We are driven by the opportunities with Swedish hardwood and strive for continuous development within our industry.
Lately, we have been working on product development of rustic oak edge-glued three-layer panels at KG List to use more of the potential of the raw material's different qualities.
We have produced material samples with different surface treatments to test the concept and show the possible product value to interior architects, designers, buyers, and other actors. Currently, we can present untreated, oiled or varnished material samples. All panels have been puttied. Primarily, we sell untreated material.
Rustic oak edge-glued three-layer panels have a natural impression and present the opportunity of getting more value out of the tree. The panels have a lot of life in the structure, similar to the table we made for the Wood Products & Technology fair in Gothenburg last autumn.
Product development is part of working towards the objective of using more of the raw material and deepening the knowledge of the material. We want to open a dialogue about possibilities with the raw material and give more space to rustic expressions in specifications without compromising quality. Swedish hardwood has incredible potential and using more of the raw material here in Sweden – sustainable, of course!
Are you interested, curious about the product, and wish to order material samples for testing in your products? Contact us, and we will be happy to tell you more!